Lionel 6-17203 Cotton Belt Double Door Boxcar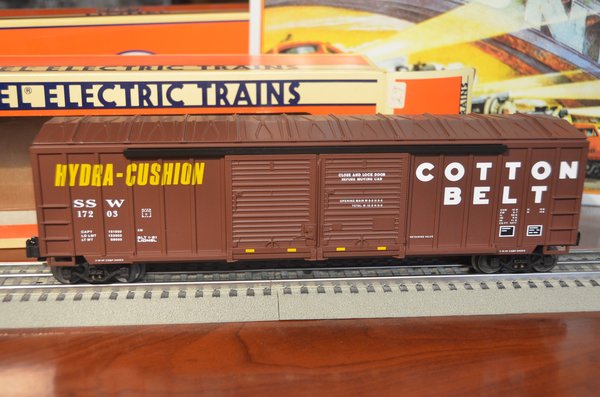 Lionel 6-17203 Cotton Belt Double Door Boxcar
Upon acquisition of the SSW railway Southern Pacific immediately put to work, along with the Stanford Research Institute - a successful hydraulic cushion underframe device which, because of its unique qualities, was named Hydra-Cushion underframe. (In fact the impact which the cushions absorb are so great, that they are essentially eliminated! The Hydra-Cushion has proven to be one of the most significant advances in fragile railroad shipping protection.
As of 2008 SP and SSW shared over 5,000 of these Hyda-cushion Boxcars.
Lionel has been able to recreate this amazing feature on this Standard O gauge model! Not only does it feature Die-Cast sprung trucks and Die-Cast couplers, but each truck features independent suspension - to recreate the feeling of Hydra-Cushion.
The model also features Double "locking" doors. - This is an added bonus because anyone know that sometimes running boxcars the doors like to slide open by themselves.
This is a truly detailed model Manufactured in 1991. Brand new in Box Taken out for Pictures.
Thanks for stopping by your local family run LPS Hobbies and Electronics